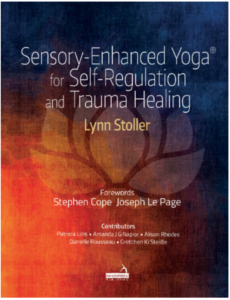 The Sensory-Enhanced Yoga Institute is proud to announce our upcoming book: "Sensory-Enhanced Yoga® for Self-Regulation & Trauma Healing", authored and edited by Lynn Stoller, M.S., OTR/L, C-IAYT and five outstanding expert chapter contributors: Dr./Col. Pat Lillis, Amanda Napior, Dr. Alison Rhodes, Dr. Danielle Rousseau, and Gretchen Ki Steidle! The book is being published by Handspring Publishing and is due in print in the US in August 2019.
TESTIMONIALS
"This is certainly going to be the classic text on trauma and yoga!"- Stephen Cope, Scholar-in-Residence and former Director of the Kripalu Institute for Extraordinary Living
"Lynn Stoller's book is the most comprehensive guide available on the application of Yoga Therapy for PTSD and is an essential text for every Yoga therapist."- Joseph Le Page, Founder of the Integrative Yoga Therapy program
---
Sign up below to be notified when the book is published.