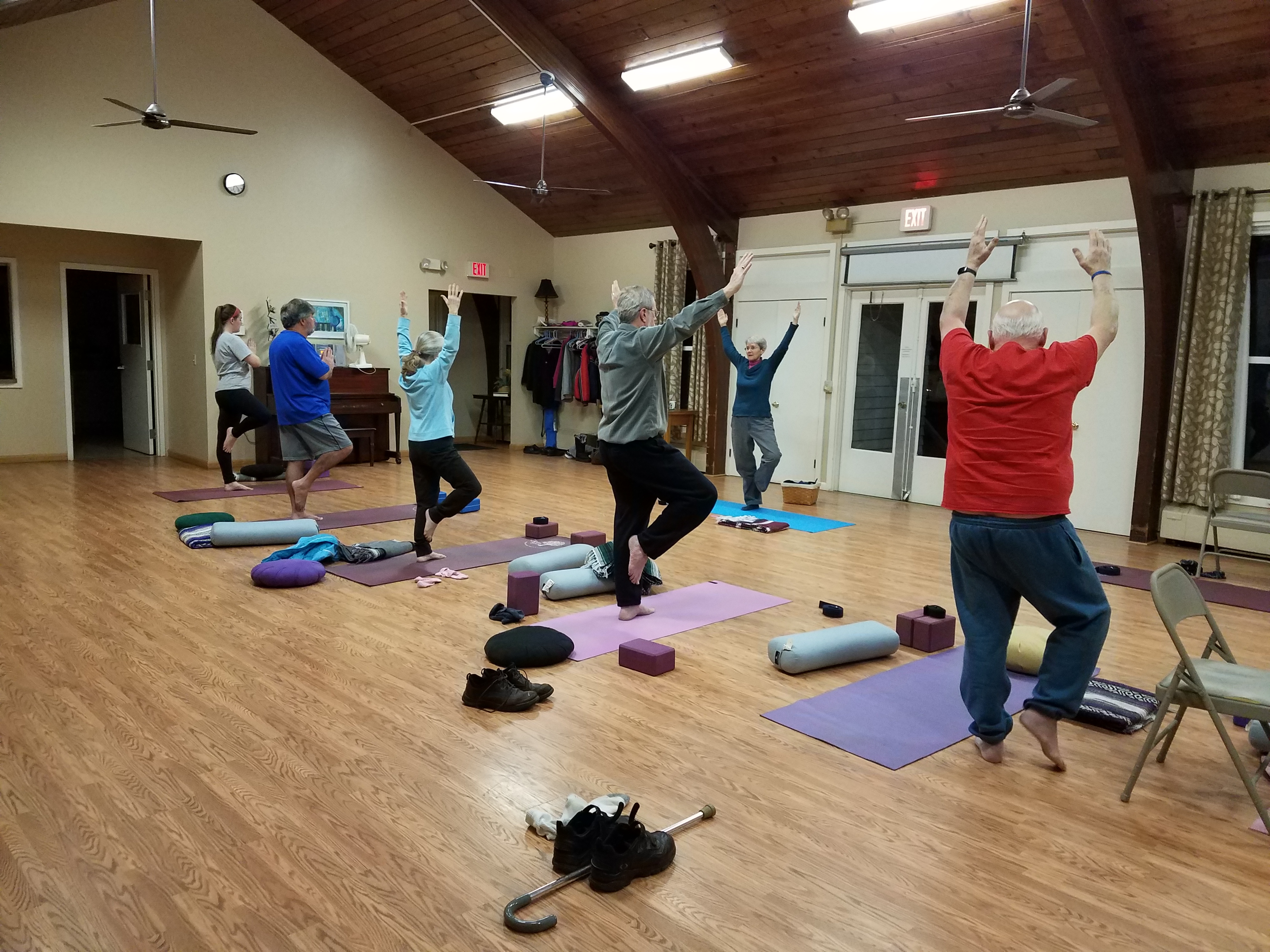 SENSORY- ENHANCED YOGA® FOR SELF-REGULATION AND TRAUMA HEALING  Register now
2-Day Workshop for Health Professionals: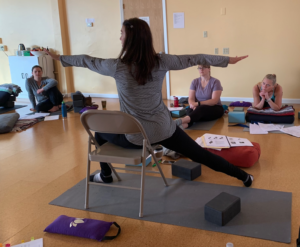 Sensory-Enhanced Yoga® for Self-Regulation & Trauma Healing is designed especially for occupational therapists (OTs & OTAs,) physical therapists, mental health professionals, nurses, and other licensed health professionals who wish to incorporate evidence-based, trauma-sensitive yoga techniques into their professional practices to maximize healing from combat stress, PTSD, anxiety, and related autonomic nervous system disorders. Yoga experience is helpful but not required; see the special note* below. The 2-day workshop includes several paired teaching practices and a larger group experiential lab.
Help Your Clients Meet The Following Goals:
» Effectively manage stress before it leads to emotional dysregulation and/or inappropriate behaviors.
» Develop emotional resiliency, that is, the ability to rise to meet a challenge or threat as well as easily calm once it has passed.
» Decrease hypervigilance and overreaction to sensory input (e.g. visual, crowds, touch, noise, movement).
» Improve quality of sleep and energy level to support wellness and enhance daily
productivity.
» Decrease intrusive thoughts by learning to become present through breath and body awareness.
» Enhance one's sense of self-worth and personal empowerment.
Sensory-Enhanced Yoga® is closely informed by the highly successful treatment protocol used with deployed military personnel in Kirkuk, Iraq, which Lynn co-developed; her experience teaching veterans in her local community; as well as her many years of experience as a sensory integration certified occupational therapist and registered yoga instructor.
The program applies techniques from sensory-based OT practices as well as recent findings from the fields of neurobiology and trauma psychology to address the core symptoms of PTSD. Participants are also taught how to create a "safe container" for students, both physically and psychologically, in which healing can occur.
CEU Information:
» NBCOT – This course is categorized as a PDU ID#7 and qualifies for 14 PDUs/Contact Hours by the NBCOT (National Board for Certification in Occupational Therapy, Inc.)
» NASW- This program is Approved by the National Association of Social Workers (Approval #: 886766063-9054) for 15.5 [Social Work] continuing education contact hours.
» YACEP- Yoga Alliance Continuing Education Provider
» CEUs for other professions- Please email lynn@sensoryenhancedyoga.org or call Lynn at (339) 225-0084.
Participants will receive a certificate of completion at the end of the course.
A detailed 129-page manual is included in the tuition
Please note: If you are both a licensed health professional and an RYT, please use the registration forms on this page for health professionals and list your RYT status under "other certifications".
Upcoming Trainings:
*Important Note: Asterisked workshops will be designed for both health professionals and RYTs and be held in a combined format.The course is listed separately for RYTs and health professionals in accordance with Yoga Alliance regulations which state that RYTs are not qualified to treat any medical condition. Therefore, the workshop title and learning objectives are modified accordingly for RYTs.
*Saturday, May 4 & Sunday, May 5, 2019, 8am-6pm– in Lexington, MA (at the Cotting School)
Faculty:
»Lynn Stoller, M.S. OTR/L, C-IAYT, RYT 500
»Megan Hennessey, M.Ed., RYT
»This workshop is co-hosted by the Cotting School
This location offers a group rate of $385 for 3 or more qualified people with a registration cut-off date of April 3. Must contact lynn@sensoryenhancedyoga.org prior to registration for authorization and procedure.

*Saturday, June 1 & Sunday, June 2, 2019, 8am-6pm– in Ashton, Maryland (at Blueberry Gardens)
Faculty:
»Trisha Barry, M.F.A., E-RYT 200
»Lucy Lomax, C-IAYT, E-RYT 500, C-iRest, C-WAE
»This workshop is co-hosted by the Retreat Center of Maryland

*Friday, Sept 20 & Saturday, Sept 21, 2019, 8am-6pm– in Dayton, OH (at Day Yoga Studio)
Faculty:
»Anna Molgard, B.A., E-RYT 500, C-IAYT
»Devon Schmidt, E-RYT 500
»This workshop is co-hosted by Day Yoga Studio

*Friday, Nov 1 & Saturday, Nov 2, 2019, 8am-6pm– in Chicago, IL (at Ganesha Studio)
Faculty:
»Anna Molgard, B.A., E-RYT 500, C-IAYT
»Julie Jack MS, MA, RYT
»This workshop is co-hosted by the Ganesha Studio